Pound Bulls Look to U.K. Data in Hope to Revive Fortunes
The ailing pound may need a dose of positive U.K. data to help it recover from a losing run against the dollar.
Traders will watch data due this week in the hope that evidence of a strong economy will help boost the currency. Sterling dropped below $1.30 for the first time in seven weeks Friday as investors looked past the Bank of England's interest-rate increase and focused on Governor Mark Carney's comment that a chance of a no-deal Brexit was "uncomfortably high."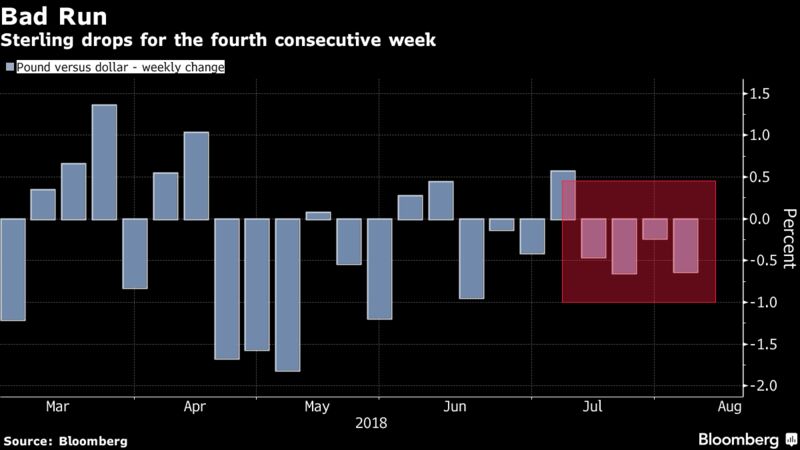 The pound hovered close to $1.30 in London Friday after falling to $1.2976, the lowest since July 19. It posted its fourth straight weekly decline against the dollar, its longest losing streak since January 2015.
The slide came even as Citigroup Inc.'s Economic Surprise Index, which measures whether economic data have exceeded or fallen short of analysts' estimates, climbed last week to the highest level since February.
"Positive U.K. data surprises could — if they were strong enough — jolt sterling markets out of their current Brexit lull," said Viraj Patel, a currency strategist at ING Groep NV. Economists at the bank predict a GDP reading of 0.5 percent which, if materializes, could offer sterling "a bit of support," Patel said.
Growth Data
Investors turn their focus to gross domestic product, industrial production and trade data due Friday. The U.K. economy grew 0.4 percent in the second quarter, according to the median forecast in a Bloomberg survey. Still, developments surrounding Brexit and possible escalation in the trade war between the U.S. and China could hamper any sterling gains.
"We do feel the balance of risks is for further political turbulence between now and October," said Patel, who forecasts that the pound will drop to $1.27-$1.28 in the third quarter.
The pound has been oversold against the dollar "for a couple of months now — but for good reason," according to Patel. "Both Brexit and trade-war uncertainties are weighing on sentiment — and we'll need one or other of these risks to subside to change those dynamics."
Read more: https://www.bloomberg.com/news/articles/2018-08-05/pound-bulls-look-to-u-k-data-in-hope-to-revive-fortunes
---
---