The household items we miss the most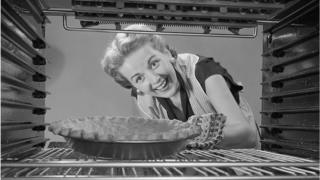 Whether you miss the Spong bean-slicer or mourn the passing of the Belling bed warmer, there is a host of household implements that people would welcome back into their lives – and just as many that have never been out of service.
A recent BBC article, asking which household items should make a comeback, prompted a flurry of responses from readers propped up in bed clutching their tea-maker drinks and anticipating a day of mangling their twin-tub-washed clothes while dancing to a Decca gramophone.
Here are some of the items still used and others that are sorely missed.
Lord of the dries?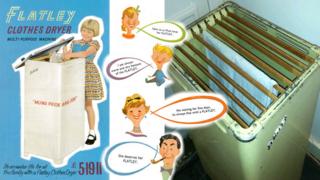 Julie Moffat from Leicestershire would dearly like to see the return of a contraption called the Flatley, which when she was a child was apparently "indispensible".
She describes it as "a metal box on wheels standing about 3ft 6 high. Inside were wooden rails and you hung your wet washing on it to dry and put the lid on, having plugged it into the electricity to warm it up.
"We gathered around it in the kitchen to keep warm."
The Flatley is also missed by Mark Binner in Rochdale, whose mother used to own one: "It had a heating element in the bottom and you suspended clothes from thin wooden rods at the top. It worked a treat."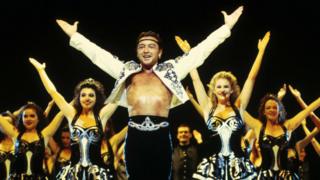 Tea-making memories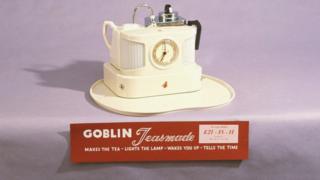 Many a morning across the country is still broken by the gurgle and hiss of a Teasmade, but for David James in Lewes the device brings back bittersweet memories.
"My first Christmas working, which was in the early 1970s, I took my brother by train into Brighton. I had one goal, to buy my mum and dad the latest design Teasmade.
"Of course I hadn't considered the weight of the box with a ceramic teapot. We struggled from the shop back to the railway station and on to the train.
"Back at our hometown we had a three-mile walk to our house before smuggling it in into the house to hide until Christmas Day.
"Now they are both gone I can still see their faces today when they opened their gift, which went on for more than a decade of daily use."
Chop chop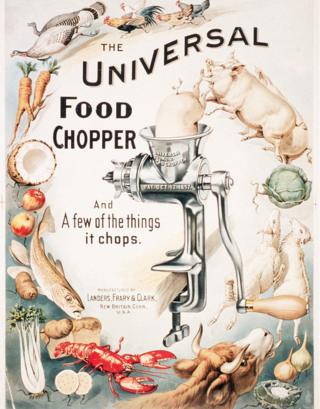 If you're hankering after the days when you could stuff chunks of flesh into a grinder, wind a handle and be rewarded with delicious little meaty worms, Michael Smith from Sheffield might be the subject of your envy.
He still has a cast iron mincer made in the 1930s.
"It also serves well with certain old cheeses, and it's a dream for the garden birds when using it for grinding up things such as old biscuits and crackers, as well as less-than-fresh bread to make crumbs," says Mr Smith.
"Doing this also helped the cleaning process, with any stray bits of meat getting dragged through with the bread first. My kids used to love getting to turn the handle, so I had the best of every world.
"The other pluses with it are there is a lot less wasted food in my house and it is not electric."
Misses Mangle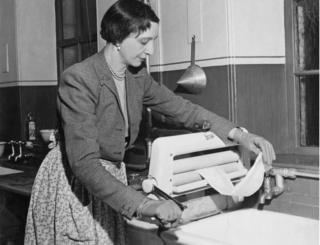 Jenny Coutts from Marlow says she has spent years looking for a mangle to dry clothes that cannot be put on a fast spin.
"Most sweaters I own end up thrown away, as the washing machine causes them to get covered in bobbles. If I don't spin, it can take days for them to drip dry. I would love to have a mangle which would squeeze the water out without spinning," she says.
"The only ones I have found aren't usable and are just used as rusty features in someone's garden."
Paul Collinson from Watton in Norfolk is also a fan of the mangle: "They required a bit of manual effort, but used no electricity and helped with daily exercise.
"I'd willingly buy one for the wife as a surprise Christmas gift," he generously says.
Tardis and taters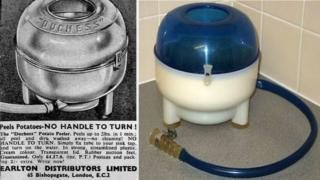 Carl Cottingham's childhood in the Kettering of the late 1960s and early 70s was a giddy whirl of watching Patrick Troughton/John Pertwee on TV and using a water-powered potato peeler.
It was a circular device about the size of a washing-up bowl, with a rough-textured interior.
"I used to put the device in the sink, attach a hose to the cold tap and turn the water on. Potatoes were dropped in through a hole in the top and they were 'peeled' as they were circulated. The water would drain out of another hose. Once enough skin was removed, I simply turned off the water.
"On occasions when I went off to watch Dr Who, on my return the potatoes would be reduced to the size of peas.
"Great memories."
Dial in style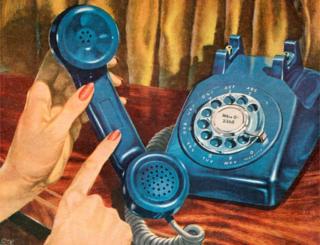 A rotary telephone is likely to prove popular when the end of the world is nigh, Rachel ab Iorwerth in Chipping Norton believes.
"I use it a lot, but not if I'm calling up a company that will have menu options that require me to 'press 1 if…' and I can't walk around the house with it, but I usually sit on the stairs to chat anyway. I'm convinced that when the apocalypse arrives and we have no power, all my neighbours will be queuing up to use my phone – providing the phone lines still work."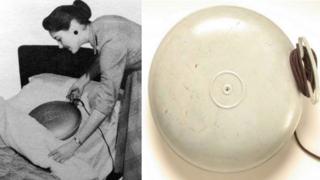 Alec Beanse is still using a Belling bedwarmer – a device consisting of two shallow metal domes joined together, heated by a 40-watt light bulb.
Made between 1939 and the 1960s, it's much better than an electric blanket, Mr Beanse says.
Its original sales brochure claims: "You've never known such comfort and luxury as a bed warmed (and thoroughly aired too) with a Belling electric Bed Warmer. It really is marvellous."
Board games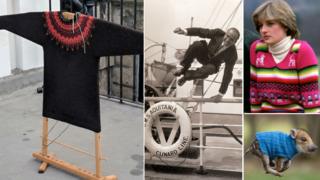 Gordon Simpson from Ollaberry in Shetland was recently disappointed when he tried to find himself a Shetland jumper board.
"I needed one recently when I had to dig out an old hand-knitted Fair Isle jumper (known as a Ganzie up here) to wear to a funeral – the deceased's family asked for this dress code. I had the perfect one but it had shrunk a bit when I washed it.
"Every house in the county had at least one jumper board when I was young, but fashions shift, the jumper board gets relegated to the shed, and eventually the bonfire. Schoolboys used to make them as a proud display of their woodworking skills.
"Now you can still buy them but as artisan, retro, kitsch items they are very expensive. I ended up just wearing a suit to the funeral."
Kitchen conveniences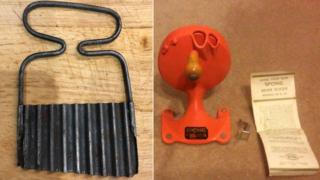 Matt and Berenice Concannon live among a host of old items, including a 1961 Kenwood Chef and a 1960s Hoover Junior. Mr Concannon also uses a 1912 Ever Ready Razor most mornings, while M Voaden uses a crinkle cut chip maker inherited from a grandmother and Anne Crawford a Spong runner bean slicer.
Trousers and snakes

Caddy-matic tea dispensers and Corby trouser presses are on the resurrection list of L Boakes from Ramsey on the Isle of Man. "Our Caddy-matic was screwed to the side of our Easiwork dresser. Each time you pushed the button, a teaspoon of loose tea was allowed to fall into the teapot.
"I don't drink ordinary tea any more, but would love a Caddy-matic for my loose green tea, or even coffee. And the legendary Corby trouser press cost a fortune, but was an absolute godsend. I could pop my work trousers in and know I'd always look smartly turned out.
"I just wish there was an equivalent for blouses and shirts, too."
The Boakes household may be pleased to know Corby still sells trouser presses – including the Executive range which are "truly the cream of the trouser pressing crop".
Staying with fashion, Paul Fisher from St Annes on Sea in Lancashire is baffled as to why snake belts – stretchy belts with an s-shaped fastening – are no longer popular.
"They were elasticated, comfortable and infinitely adjustable and it was easy to reuse the buckle on new fabric. I'm 63 and first wore one for school in about 1962. Why aren't they in the shops any more?"
It's one of the world's great unanswered questions, Mr Fisher. But let's finish with Mike Ackroyd from Durham, who contacted the BBC to communicate three simple words in capital letters.
"LIONS BUTTERSCOTCH TABLETS," he booms.
---
---